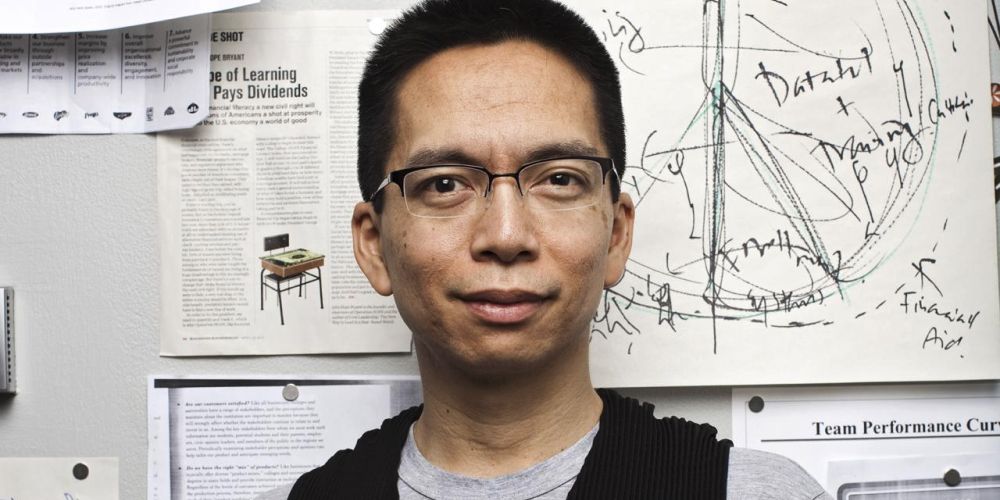 An Interview with John Maeda
I first encountered John Maeda during my third year as a student at the Rhode Island School of Design. I was fascinated by his work, which merged the elegance of design with the immediacy and power of new technology.
Since then, his way of communicating rich ideas with simple statements has influenced my thinking and the way I communicate. As you might imagine, I was thrilled to learn that he had been elected as RISD's president in 2008 (though maybe a little jealous of my fellow alumni-to-be). After connecting with him on Twitter and exchanging a few messages back and forth, he graciously agreed to answer a few of my questions…
"Electrons move at the speed of light, [people] don't." -J.M.
CB: I recently read What Leaders Really Do by John Kotter, who makes a point to distinguish leadership from management by defining leadership as coping with change and management as coping with complexity. Does that distinction ring true for you?
JM: I'm not sure. I would say instead that sometimes we need a leader more, sometimes we need a manager more. Being both at the same time is not a normal behavior, but desirable nonetheless.
CB: Well, your unanimous election to lead RISD as its President was somewhat controversial among the student body, but your first move was to set up a blog to communicate your vision for RISD and address concerns that you anticipated would be on their minds. In your early posts, you described achieving your vision as an "open-source design problem." Would you elaborate on that and tell us how it's going so far?
JM: It's been a challenge. I've documented a lot of that work on the Harvard Business Review blog. Visit google "hbr Maeda" for the elaboration.
CB: How does social media humanize technology?
JM: It lets you connect with more humans. Not more computers, as was the earlier goal of computing.
CB: What does authenticity mean to you, and how does a large organization like RISD operate authentically?
JM: There's that great book on "Authenticity" by those 2 guys- I can't remember their names. It basically says that you can't try to be authentic, because if you do, you aren't. So it appears that being authentic means doing nothing. Maybe that's it — it is the appearance of doing nothing. Let's leave it at that.
RISD can't help but be authentic as it has been around since 1877. It's as real as an art school can get.
CB: I think you mean Authenticity: What Consumers Really Want, by James Gilmore and Joseph Pine… What do you think are some of the more radical ways in which technology has changed the college experience today compared to when you were a student?
JM: Access to people has changed. You could never see or visit a professor at Harvard, Stanford, or RISD without an appointment, etc. Now you can follow their Twitter feed and sometimes they respond.
CB: What fascinates you about the web? What would you change about it?
JM: The speed of change. The speed of change.
CB: And for a wild-card question, if the world's technological and economic systems were to collapse and revert society to locally-focused, agrarian communities, what role would you assume?
JM: Water seeker.
You can receive these articles straight to your inbox.
Subscribe Here.
---
---
Date
24 July 2009
---
---